Meeting management

for committees

.
Unlock the full potential of your committee by harnessing the power of board management software designed to cater to the unique needs of your organization. Take your committee's effectiveness to new heights with a comprehensive suite of features perfectly tailored for committees. Streamline processes, foster collaboration, and optimize governance practices, empowering your team to maximize its positive impact on the communities you serve. Drive meaningful change and unlock the full potential of your charity through the utilization of advanced board management software.
Everything you need to organize and run better board meetings.
Empower your committees with unparalleled efficiency by adopting advanced committee management software. By embracing this solution early on, you can unlock the full potential of your committee, optimizing operations and driving success. Elevate your governance practices, streamline processes, and foster effective collaboration, enabling your committee to make a significant positive impact on its objectives. Harness the power of committee management software to enhance effectiveness and achieve remarkable outcomes.
Quickly build structured meeting agendas that organise talking points, team assignments and files in a contextual easy to use manner.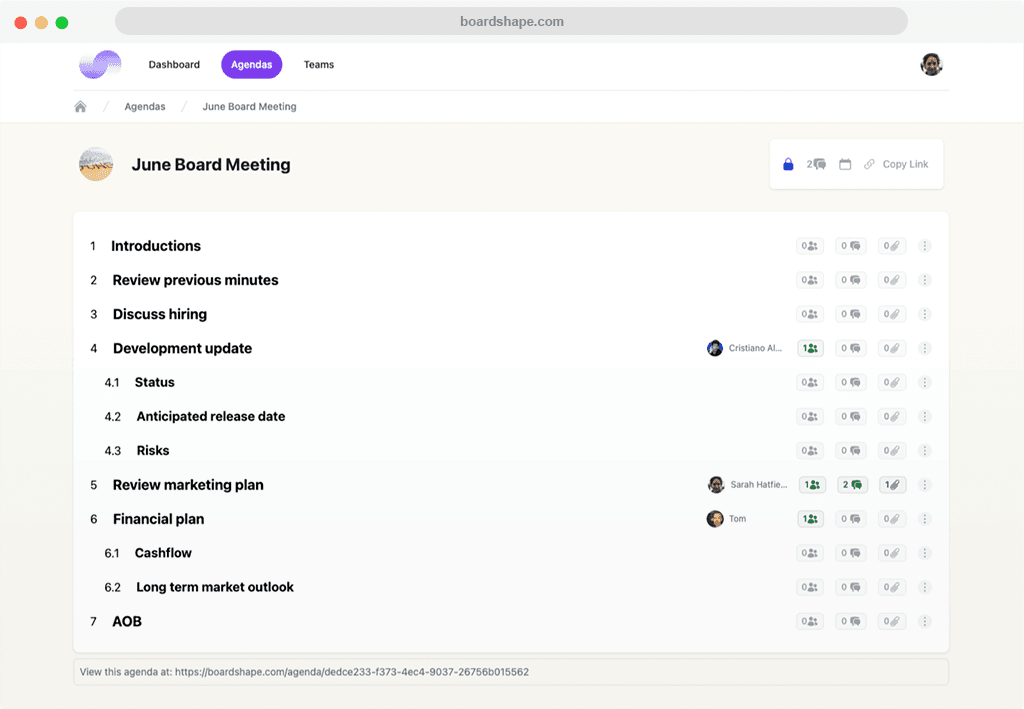 Simple pricing,

for everyone.
Great value and transparent pricing that grows with your business.
Agenda Builder
Free
Build meeting agendas

Real-time agenda presentation

Unlimited team members
Agenda Builder + Meetings
$49 USD per month
Coming Soon!
Build meeting agendas

Real-time agenda presentation

Unlimited team members

Schedule meetings

Manage documents

Build meeting minutes

Finalize meetings
Agenda Builder + Meetings + Sign
$99 USD per month
Coming Soon!
Build meeting agendas

Real-time agenda presentation

Unlimited team members

Schedule meetings

Manage documents

Auto build meeting minutes with AI

Finalize meetings

Sign documents
We provide a discount to registered charities or schools looking to improve their board management, just sign up and then drop us a line.
Frequently asked questions
Some answers to questions you might have.
Why should we be using BoardShape?

BoardShape provides a centralized platform that simplifies board collaboration like never before. Say goodbye to lengthy email chains and scattered documents – with BoardShape, all your board materials, notes, and discussions are neatly organized in one secure digital space.

I currently operate my board without any board portal software, why should I switch to BoardShape?

By transitioning to BoardShape, you'll witness a significant boost in efficiency. Our software automates routine administrative tasks, freeing up your board's valuable resources. Spend less time on manual processes and more time on strategic decision-making and driving your organization forward.

Can BoardShape be downloaded?

No, it is entirely web-based. BoardShape is an online board portal softwars product that works in your browser.

Will BoardShape be compatible with my computer?

Yes, almost certainly. BoardShape runs in a web browser and will work on any modern computer or mobile device so your entire board of directors will have no issues.

Will I need to create an account to use BoardShape?

Yes, when BoardShape enters general release we will invite you to create an account. You will also be able to use a Google or Microsoft login as part of the account creation process.

What are the key advantages of using BoardShape?

BoardShape will turn the process related to running board meetings and governance into a breeze. It will deal with scheduling, building agendas, document management, meeting minute management, and electronic sign-off.

How will BoardShape differ from other similar products in the market?

By offering unrivalled simplicity and pricing. Our product is aimed at small to medium-sized enterprises that need a cost-effective and transparent solution that delivers exactly what they need at a highly competitive price point.

I'm sold, what next?

Please join our waiting list and we will inform you as soon as the product is ready.